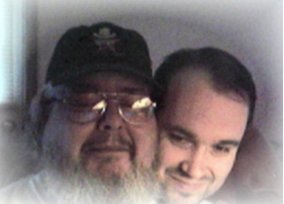 Owners Co-Admins. of irc.anora.org on exodusirc.net
Real Names are Randy & Gordon , Location Ohio River Valley.
BearLuvr-
48 yr old Bear semi-retired working on 2nd career after bike
crash in 86 caused disability. Currently running small in home
computer business, as well as web design and graphic artist.
I am happily sharing my life and love with my Cub / lover you
all know as LovedCub. He is my reason for being,and a Full life
partner. He also keeps our server up and running. and me in line.
LovedCub-
28 yr old programmer. versed in win NT Unix Linux, kinda new to irc.
met BearLuvr on line while working in Tempe,Az.and was ready for a
change of pace. When we met we decided we could live & work well as
a team. So relocated to Ohio with BearLuvr and have been teaching
him the ways of *nix. Is the "brains" behind irc.anora.org .
Email
Website
Back